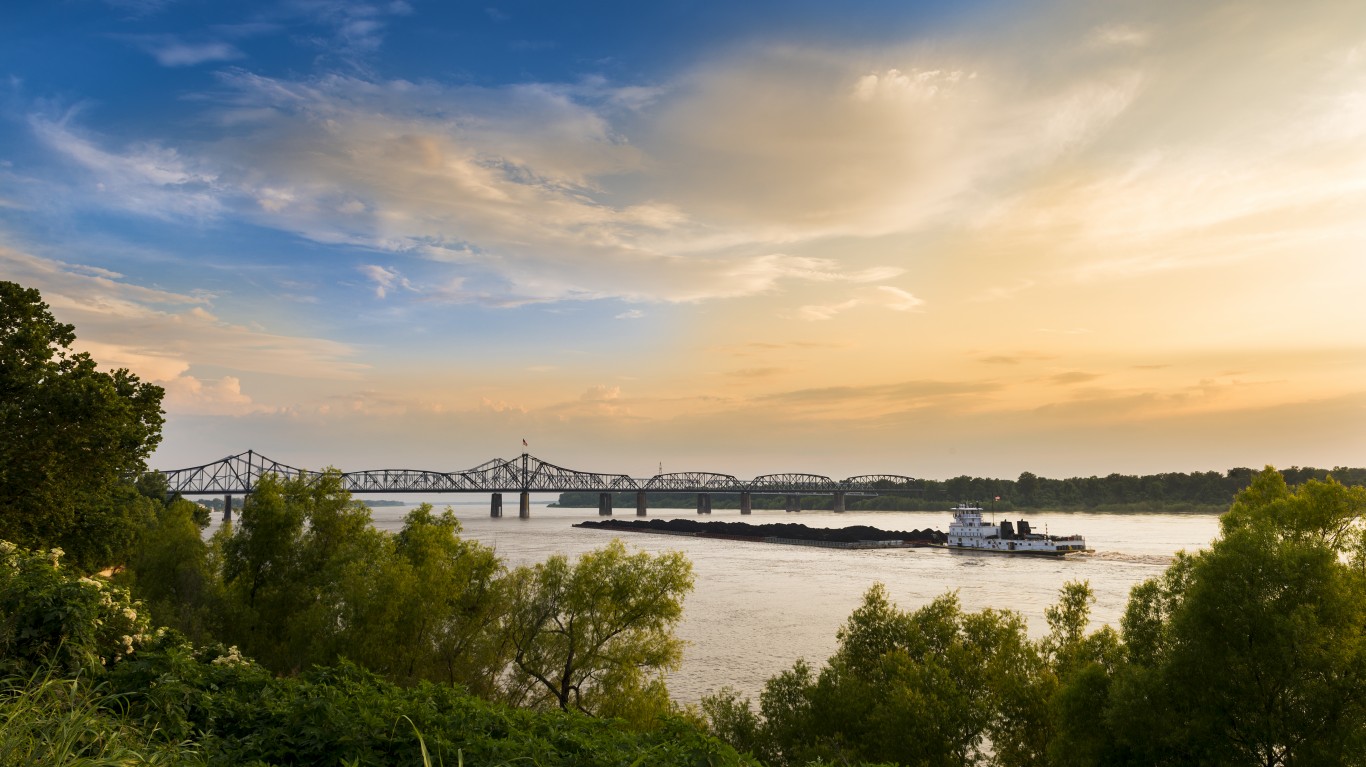 Life expectancy fell by 1.5 years in the United States in 2020. The decline, driven by the COVID-19 pandemic and the opioid crisis, represents the most pronounced regression in public health in the United States since World War II.
While the most recent dip in life expectancy in the U.S. is alarming, there are many parts of the country where poor health outcomes and other socioeconomic hardships have long been the norm.
Using an index of three measures -- life expectancy at birth, bachelor's degree attainment, and poverty rate -- 24/7 Wall St. identified the worst counties to live in in every state.
Holmes County, located in central Mississippi, ranks as the worst county to live in in the state. Mississippi is the poorest state in the country, with a 20.3% poverty rate -- and Holmes County is the poorest county in the state, with a 42.4% poverty rate, more than double the rate across Mississippi.
Poverty can have a negative impact on health outcomes, including life expectancy, as poorer Americans often struggle to afford health care and healthy lifestyle choices. Partially as a result, life expectancy at birth in Holmes County is just 70.6 years, well below the 74.9 year average life expectancy statewide and 79.2 year average nationwide.
Data on bachelor's degree attainment and poverty are from the 2019 U.S. Census Bureau's American Community Survey and are five-year estimates. Data on average life expectancy at birth came from the 2021 County Health Rankings, a joint program of the Robert Wood Johnson Foundation and University of Wisconsin Population Health Institute, and are based on mortality data from the years 2017 to 2019. Supplemental data on population and income are from the ACS, and unemployment rates are seasonally adjusted for May 2021 and are from the Bureau of Labor Statistics. This is the worst county to live in every state.
| Place | Poverty rate (%) | Adults with a bachelor's degree (%) | Life expectancy at birth (years) |
| --- | --- | --- | --- |
| Alabama: Wilcox County | 30.1 | 12.5 | 70.8 |
| Alaska: Bethel Census Area | 28.3 | 11.9 | 71.6 |
| Arizona: Apache County | 35.5 | 12.3 | 73.1 |
| Arkansas: Phillips County | 34.5 | 13.8 | 71.1 |
| California: Tulare County | 23.8 | 14.6 | 78.7 |
| Colorado: Otero County | 23.7 | 18.6 | 74.0 |
| Connecticut: Windham County | 11.4 | 24.3 | 78.5 |
| Delaware: Kent County | 13.5 | 23.7 | 77.8 |
| Florida: Hamilton County | 29.9 | 7.9 | 76.2 |
| Georgia: Ben Hill County | 29.6 | 11.2 | 73.0 |
| Hawaii: Hawaii County | 15.6 | 29.4 | 80.6 |
| Idaho: Shoshone County | 19.4 | 11.5 | 75.5 |
| Illinois: Saline County | 21.1 | 19.2 | 73.4 |
| Indiana: Fayette County | 19.0 | 13.3 | 73.0 |
| Iowa: Appanoose County | 17.7 | 16.3 | 77.1 |
| Kansas: Wyandotte County | 19.2 | 18.1 | 75.8 |
| Kentucky: Leslie County | 38.0 | 8.7 | 70.4 |
| Louisiana: Madison Parish | 36.4 | 12.8 | 72.0 |
| Maine: Somerset County | 20.4 | 16.5 | 76.5 |
| Maryland: Somerset County | 21.7 | 14.4 | 75.5 |
| Massachusetts: Hampden County | 16.4 | 27.1 | 78.2 |
| Michigan: Clare County | 22.7 | 12.6 | 74.9 |
| Minnesota: Wadena County | 14.3 | 13.8 | 76.1 |
| Mississippi: Holmes County | 42.4 | 10.2 | 70.6 |
| Missouri: Pemiscot County | 27.4 | 12.7 | 71.5 |
| Montana: Roosevelt County | 28.3 | 17.4 | 67.7 |
| Nebraska: Dakota County | 16.2 | 13.0 | 79.1 |
| Nevada: Nye County | 16.4 | 10.7 | 74.2 |
| New Hampshire: Coos County | 12.5 | 18.2 | 77.3 |
| New Jersey: Cumberland County | 16.5 | 15.6 | 75.3 |
| New Mexico: McKinley County | 34.8 | 11.4 | 71.9 |
| New York: Bronx County | 28.0 | 20.1 | 80.9 |
| North Carolina: Robeson County | 27.7 | 13.7 | 72.8 |
| North Dakota: Rolette County | 27.1 | 19.6 | 72.3 |
| Ohio: Scioto County | 22.6 | 15.7 | 72.0 |
| Oklahoma: Okfuskee County | 26.3 | 11.6 | 69.6 |
| Oregon: Malheur County | 21.8 | 13.7 | 78.1 |
| Pennsylvania: Fayette County | 17.3 | 17.3 | 75.2 |
| Rhode Island: Providence County | 15.2 | 29.0 | 79.4 |
| South Carolina: Dillon County | 32.6 | 11.1 | 72.9 |
| South Dakota: Todd County | 55.5 | 15.6 | 67.4 |
| Tennessee: Cocke County | 23.5 | 11.6 | 71.5 |
| Texas: Zavala County | 33.8 | 10.9 | 76.0 |
| Utah: San Juan County | 25.0 | 18.3 | 76.4 |
| Vermont: Orleans County | 13.1 | 21.5 | 78.5 |
| Virginia: Buchanan County | 28.4 | 11.8 | 74.0 |
| Washington: Adams County | 25.6 | 14.3 | 80.2 |
| West Virginia: McDowell County | 33.2 | 5.4 | 69.0 |
| Wisconsin: Juneau County | 15.1 | 13.7 | 78.2 |
| Wyoming: Big Horn County | 12.7 | 19.0 | 76.1 |